About Fr. Rob

Dear Friends in Christ

,

In case you are wondering what this "Fr. Rob" guy is all about, here are a few words:

My musical adventures began in third grade when a school band director recruited me to play clarinet. He said my mouth was a perfect fit. (I'm not sure if that was because of an overbite, or he was desperate for clarinet players!) Shortly after this my parents signed me up for piano lessons. At the time I thought this was a huge distraction from other pursuits, but—in retrospect—am tremendously grateful for this foundational education in music. In high school I was given a guitar as a birthday present and became a part of an Episcopal road show called "God Unlimited", which traveled from church to church sponsoring "folk masses". I can remember those early years when I would wait for the three chords I knew and would play them with gusto. Composition came as a result of a desire to read through the entire Bible. When I came to the Psalms, they struck a resonant chord in me (pun intended). I found that when I meditated on a scripture it would sink deep within my soul, and when it re-emerged (to my delight) it had become a song. One of the greatest joys in my life has been to participate in this mysterious and grace-filled process.

I have been an Episcopal priest for over thirty years, and am currently the Rector of Emmanuel Episcopal Church in Fullerton, California. The people there are a wondrous group of Christians who have encouraged my songwriting and have given me a venue to try out various new creations. If you ever have doubts that church can be real, profound, joyful, and transformative, come pay us a visit. (Or pay us a cyber visit at www.emmanuelfullerton.org.)


I am married to Cindy Hofmann Bethancourt, the beautiful soloist on these albums. We met in college where we both sang and toured with "God Unlimited". We have two grown children, Matt and Annie, who are also involved in music. Matt can be found at www.mouseandthebillionaire.com and Annie is at www.anniebeth.com. My other loves include tennis, scuba diving, and various other adventures. Here is a picture of Matt, Annie and I as we completed a jump from a perfectly good airplane.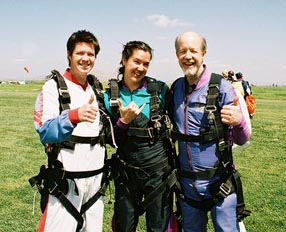 My encouragement to you is that our God is an awesome God—in power, love, and wisdom. You were created in the image and likeness of God, and—as a result—have a significant and irreplaceable destiny in the body of Christ. Never doubt that you are loved, gifted, and called to a life of limitless grace. Music is a part of that adventure. May it encourage, strengthen, and uplift you.
With love in Christ,
Fr. Rob